Jump to Recipe
This gluten free piña colada cake is so moist and full of tropical flavor! Between the pineapple, rum, and toasted coconut flakes, this cake will make you feel like you are on vacation.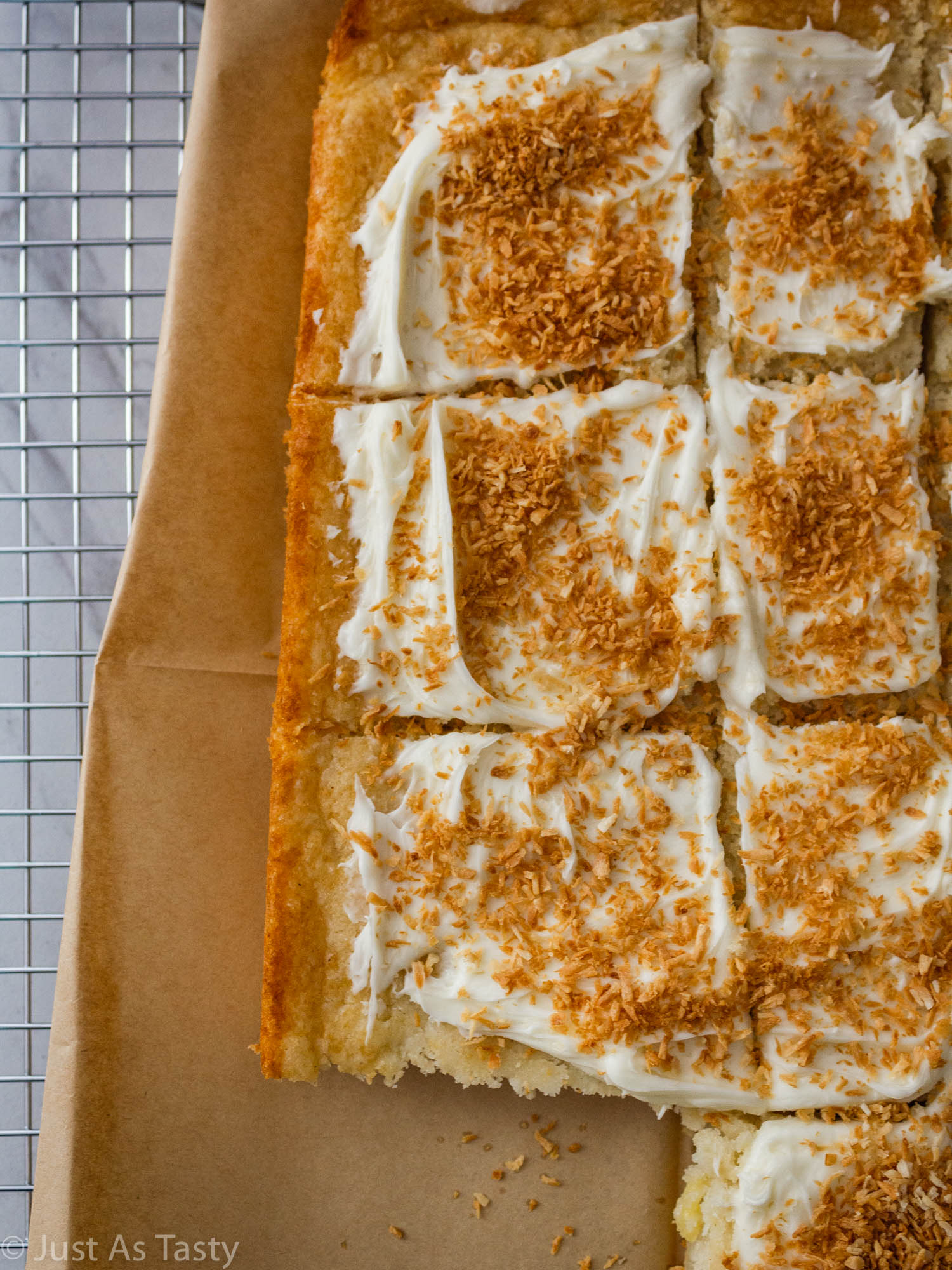 Boy do I have THE perfect summer recipe for you today! I have been wanting to try my hand at a piña colada cake pretty much since I first made my pina colada donuts. Those are always such a huge hit when I make them, and for good reason. Piña coladas are delicious!
While those donuts do not actually contain any rum flavor, they are still very much inspired by the classic cocktail. This cake, however, DOES involve rum flavor… rum extract, to be exact. Not to mention juicy pineapple in the batter and toasted coconut flakes on top. Let's dig right in!
Why You'll Love This Piña Colada Cake…
This is an incredibly straightforward recipe, so it's perfect if you're looking to take a classic 9×13 sheet cake and take it to the next level.
The flavors are SO perfect together. Everyone already knows that, right? Pineapple and coconut just work together, and the subtle bit of rum flavor adds that extra special something.
The texture of this cake… let's just say, this is what every cake should be like. Fluffy, moist, and soft. My favorite!
What You'll Need…
The dry ingredients: flour + baking powder + baking soda + salt.
The fat: unsalted butter.
The flavor: sugar + pineapples + rum extract + vanilla extract.
For added moisture: Greek yogurt + milk.
For the frosting: butter + powdered sugar + milk + toasted coconut flakes.
How To Make…
To make my piña colada cake, we'll start the way we start most recipes: by creaming the butter with the sugar. Once that's nice and smooth, add in the Greek yogurt, crushed pineapple, and both extracts.
Next, we're going to add the dry ingredients (combine them all in a small bowl and give it a good whisk first) to the wet mixture, alternating with the milk. It's best to do this in thirds and to start and end with the dry mix:
Dry mixture
Milk
Dry mixture
The rest of the milk
The rest of the dry mixture
Briefly mix after each addition, but don't over-mix. Pour the batter into a greased 9×13 pan and bake at 350ºF for around 35 minutes. Use the toothpick test to tell if it's done 🙂
The buttercream frosting is also very simple and straightforward. Beat the butter first for about 5 minutes. This may seem like a long time, but I find it makes for a really creamy frosting. Add the powdered sugar and milk (one tablespoon at a time) and beat for another 5 minutes.
Add some toasted coconut flakes on top before serving, and enjoy!
Tips For Making The Best Piña Colada Cake…
As always, I recommend using a kitchen scale if possible to weigh your flour. This is the best way to ensure accuracy, because too much or too little flour can drastically change the texture of your cake. I always use Bob's Red Mill 1 to 1 Flour. You will need 370 grams for this recipe.
I mentioned it above but it's worth repeating: do not over-mix once the dry ingredients are added to the wet ingredients. The batter should be just combined.
Always make sure your cake is completely cooled before frosting. Otherwise, your frosting will melt right in and you'll be left with a bit of a mess.
You can always make this cake ahead of time. After allowing the cake to cool completely, cover it tightly with plastic wrap and store at room temperature overnight. While you can also make the frosting ahead of time, I always recommend making it fresh, right before serving.
To toast the coconut flakes, line a baking sheet with parchment paper. Preheat the oven to 350ºF and spread an even layer of coconut flakes on top. Bake for 5 minutes, but keep a close eye on it just to be safe. Allow the flakes to cool before sprinkling on top of the frosted cake.
Piña Colada Cake Ingredient Substitutions…
To make this cake dairy-free and vegan, you would have to substitute the butter, milk, and Greek yogurt. I haven't tested it myself, but you should be able to use your favorite non-dairy substitutes. Just ensure that the yogurt you are using has the same texture and fat content as regular Greek yogurt.
I always use canned crushed pineapple for this cake. You can try to use the chunks or rings, just chop them up before adding to the batter.
You should be able to find rum extract at most major grocery stores, in the baking aisle alongside other extracts. If you can't find it or would rather omit it altogether, feel free to skip it. No need to replace it with anything else.
I like to use unsweetened coconut flakes in this recipe because the frosting is plenty sweet, but you can use sweetened flakes if you prefer.
Did you try my piña colada cake? Leave me a comment below and tag me on Instagram @justastastyblog and #justastastyblog!
Print
Piña Colada Cake – Gluten Free, Eggless
This extra moist and tropical cake features crushed pineapple and is topped with toasted coconut!
Servings 12 servings
Ingredients
For the cake:
2 ½ cups (370g) gluten free flour blend
2 teaspoons baking powder
½ teaspoon baking soda
½ teaspoon salt
1 cup (226g) unsalted butter room temperature
1 ⅓ cups (267g) granulated sugar
¾ cup (168g) Greek yogurt room temperature
½ cup crushed pineapple
½ teaspoon vanilla extract
½ teaspoon rum extract
½ cup (120ml) milk room temperature
For the buttercream frosting:
1 cup (226g) unsalted butter room temperature
2 ½ cups (300g) powdered sugar
2-4 tablespoons milk
2 cups toasted coconut flakes
Instructions
Preheat oven to 350°F. Grease a 9×13 cake pan and set aside.

In a medium bowl, whisk the flour, baking powder, baking soda, and salt together. Set aside.

Using a hand mixer or a stand mixer fitted with the paddle attachment, cream the butter with the sugar until smooth. Mix in the yogurt, crushed pineapple, vanilla, and rum extract.

Add the dry ingredients to the wet ingredients in thirds, alternating with the milk. Be sure to start and end with the dry mix, mixing on low speed between each addition. Beat until just combined.

Transfer the batter to the greased cake pan and spread into an even layer. Bake for 35-40 minutes, or until a toothpick inserted into the center of the cake comes out clean. Cool completely before frosting.
To make the buttercream frosting:
Using a hand mixer or a stand mixer fitted with the paddle attachment, beat the butter until creamy, about 5 minutes.

Gradually add in the powdered sugar while continuing to mix on low speed. Add the milk, one tablespoon at a time, until you have the desired consistency. Beat for another 5 minutes. Spread an even layer onto the cooled cake and sprinkle toasted coconut flakes on top.
Notes
To toast the coconut flakes, spread an even layer on a parchment-lined baking sheet. Toast in the oven at 350°F for 5 minutes. You can use sweetened or unsweetened coconut. I use unsweetened flakes.